12 November 2016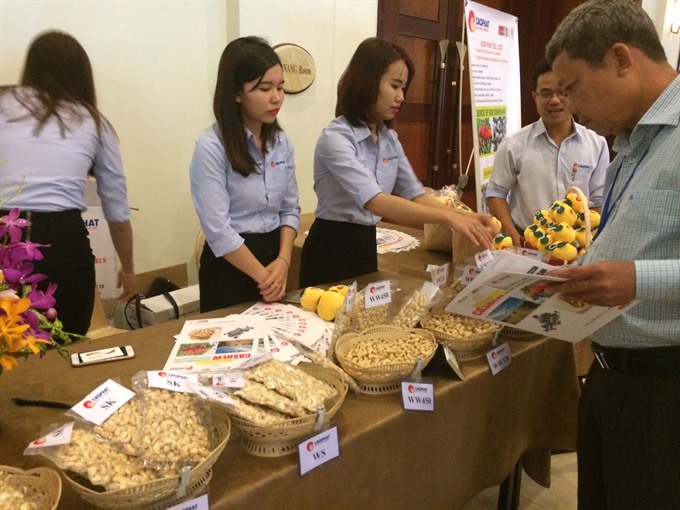 A booth displaying various kinds of cashew products at the Việt Nam Golden Cashew Rendezvous held in Đà Nẵng on November 11-12. – VNS Photo Xuân Hương
ĐÀ NẴNG —

As global demand increases for cashew, Việt Nam, the world's largest exporter of the nut, could grab an even bigger market share by improving quality, a conference heard in Đà Nẵng yesterday.
Ranjeet Wallia, president and CEO of Chi Commodities Handlers Inc, said global demand is up 53 per cent since 2010 and cashew is now the second most consumed tree nut.
"The US buys more than 30 per cent of Việt Nam's exports, mainly for snacking and making cereal, energy bars, milk and healthy foods."
Joseph Lang, managing director of Kenkko House, one of Europe's largest dealers of nuts and dried fruits, said: "The growth of the cashew market in Europe over the last three years has been tremendous with Europe now representing around 25 per cent of cashew exports from Việt Nam and having growth by well over a third over the period."
Demand is expected to continue increasing
because consumers are more aware of the nut's nutritional value, according to Lang.
Cashew currently has a tighter supply scenario and has consequently seen price rise.
The recent increase in price is likely to worry buyers, including retailers and food processors.
Lang said: "Of course, a higher price will encourage us to aim to grow and supply more to our markets, but this too represents a threat. If we supply more, we run the risk of over supply, particularly as buyers seek cheaper alternatives and this could impact our profits badly."
It was about getting the balance right between supply and demand and ensuring the product can command a high price not simply because it is in short supply but because it is of consistent, reliable and high quality, he said.
"Consumers are becoming more and more demanding about transparency. They want to know where their foods come from, what's in it and how it has been produced.
"That means we need to be more transparent, provide greater information and show evidence that our product is not infested, is of high quality, comes from a reliable and sustainable source of supply and generally satisfies the expectations of today's well informed customer."
Doãn Thị Thu Thủy, deputy head of the Việt Nam Trade Promotion Agency (Vietrade), said while exports of many other agricultural products faced difficulties, it had been smooth sailing for cashew.
Việt Nam
currently accounts for half of the world's cashew exports, and has been the leading exporter for the last 10 years.
Its cashew products are exported to 80 countries and territories, with the US, Europe, and China being the main markets
.
According to the Ministry of Industry and Trade, Việt Nam exported 290,000 tonnes worth US$ 2.32 billion in the first 10 month of this year, a year-on-year increase of 5.5 per cent in volume and 16.4 per cent in value.
The full year's exports are expected to reach a record $3 billion, with kernel accounting for $2.8 billion.
"But the Vietnamese cashew industry faces high risk due to its massive reliance on imported raw materials, which also makes it hard for processors and exporters to control quality or food safety and hygiene," Nguyễn Đức Thanh, chairman of

the Việt Nam Cashew Association (Vinacas)

, said.
Demand for raw nut imports doubled in 2013-16, he said.
He quoted quality checking company Vinacontrol as saying the quality of raw cashew imported from Africa had been lower this year compared to last, affecting Vietnamese exporters.
Trade disputes also increased significantly this year, he said.
This was due to raw cashew prices fluctuating sharply at the beginning of the harvest season ($1,350 per tonne in March) and the end of the season ($1,750 in September), which meant those who signed contracts to sell at the start of the season were unable to fulfil them.
"Some Vietnamese importers have been guilty of failing to study the market or their partners, and not being diligent while negotiating and signing contracts," he said.
Companies need to have a strategy to develop raw material sources, and be more careful about importing raw nuts, he said.
The association would work with African countries to persuade them to refuse export quotas to firms not fulfilling their contracts with Vietnamese firms, he said.
The association listed specifications for raw cashew nuts and displayed samples of purchase contracts.
Việt Nam and African countries like Ivory Coast and Nigeria discussed ways to boost co-operation in cashew trade.
The two-day Việt Nam Golden Cashew Rendezvous is being organised by Vinacas and Vietrade.
– VNS

Source: http://vietnamnews.vn/economy/346127/vn-cashew-conference-cheers-booming-demand.html#sIWBAqCfkDklMxKm.99