19 Dec. 2016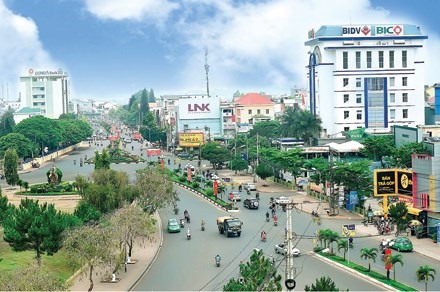 A corner of the Tây Nguyên (Central Highlands) province of Gia Lai. Local authorities expect businesses to invest in rubber-latex products; unbaked bricks; instant coffee and coffee powder products; pepper product processing; and building trade centres. — Photo laodong.com.vn
HÀ NỘI — Prime Minister Nguyễn Xuân Phúc urged local-level authorities in the Tây Nguyên (Central Highlands) province of Gia Lai Province yesterday to strive to become governments of dialogue, working together with businesses and ready to share failures and successes with them.
Speaking in front of 400 investors at an investment promotion conference in the province yesterday, Phúc pointed to the potential for investment, as well as shortcomings in the province.
Among the advantages he noted the many industrial parks and economic zones, organic agriculture, the processing industry, well-known brand names and high-tech.
But the local economic scale was still small and its processing industry does not match its large potential because its brands have not been developed on the international market, he added.
The PM said planning and developing water resources in the central highlands was crucial, as was preserving and developing forest and reservoirs.
He pledged that the Government would further develop infrastructure in the central highlands in general, and in Gia Lai in particular, to create favourable conditions for business development.
Phúc assigned the Ministry of Planning and Investment to study and formulate more preferential policies in order to reduce investment costs for local businesses in order to effectively carry out the strategy of connecting the development triangle of Cambodia–Laos–Việt Nam.
"The Government will maintain macro-economic sustainability and deep and wide economic integration and the valuation of Vietnamese đồng," said Phúc at the conference.
"Various levels of local authorities need to become governments of dialogue, innovative thinking and creativity. Authorities from province to communes have to take initiatives in going together with businesses and solving difficulties for them," Phúc said.
Local authorities will have to do "three things" together with businesses, he said: worry together, work together and share failures and success together.
Phúc said local authorities have to commit to help investors in order to double the number of businesses in the province.
Gia Lai representatives at the conference urged investors to carry out key and profitable projects, particularly in nine areas: rubber-latex products; unbaked bricks; instant coffee and coffee powder products; pepper product processing, building trade centres; building eco-tourism areas; infrastructure for industrial parks; and producing feed.
The chaiman of Gia Lai People's Committee, Võ Ngọc Thanh, sent ten proposals to the Prime Minister for approval.
The proposals include building a high-tech forestation area; adopting special policies on exempting and reducing land rent fees and supporting transport fees for businesses in the Le Thanh international border-gate economic zone; and building a price stabilization fund for key products such as pepper, coffee, rubber and cashew for the central highlands region.
Thanh said the province expected to reach 7.52 per cent GDP growth next year and an export turnover of US$450 million, 12.5 per cent higher than this year. — VNS

Source: http://vietnamnews.vn/economy/348202/pm-urges-local-authorities-to-dialogue-with-business.html#cWjJFdSKHoSCiCjH.99