22 May 2017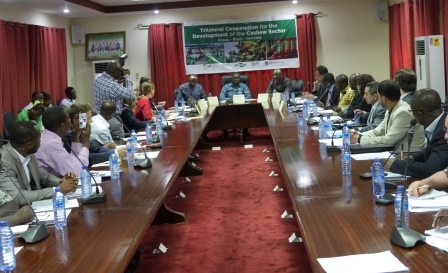 On the 16 April 2017, Ghana Ministry of Food and Agriculture hosted the launch of a trilateral cooperation between Ghana, Germany and Brazil governments. The objective of this cooperation is to improve the quality of research in the development of cashew clones that are high yielding and tolerant to major diseases, pest and well adapted to the local condition. It also aims to improve efficiency and technologies of cashew processing and by-products processing.
As part of this initiative's achievements, 10 hectares of polyclonal seed orchards will be planted and two cashew by-product processing technologies will be introduced to farmers' cooperative.
The African Cashew Alliance (ACA) which is a major private sector stakeholder is honored to have been invited to participate and contribute to the planning workshop of this initiative, from the 18th - 19th May, together with the Brazilian Agricultural Research Cooperation (EMBRAPA), the Ghana Research Institute of Cocoa and German International Cooperation, through the Competitive Cashew initiative.
Source: http://africancashewalliance.com/en/news-and-info/blog/aca-contributes-improve-cashew-planting-material-and-product-processing