Binh Phuoc Province wants to strengthen co-operation with other provinces and cities as well as foreign countries to aid its industrial development, especially its cashew processing industry, according to its leader.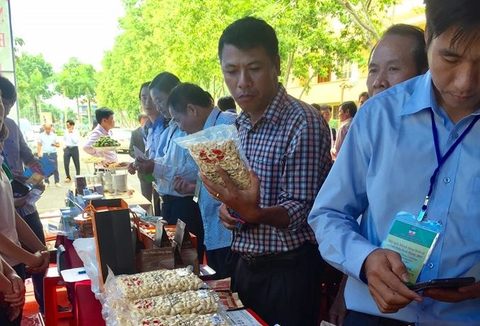 A booth displaying cashew products on the sidelines of an international cashew industry client conference held in Dong Xoai town in Binh Phuoc on May 16.
Speaking at an international clients conference in the cashew industry held in the south-eastern province yesterday, Nguyen Van Tram, chairman of its People's Committee, said the province had some 143,000 hectares under cashew, accounting for nearly 50 per cent of the country's total, which yield 150,000 tonnes a year.
Earnings from cashew exports were worth US$500 million last year, or nearly a third of the province's total export income, he said.
The province is home to more than 200 enterprises and establishments involved in cashew processing, providing jobs for more than 50,000 people.
Despite having the largest cashew cultivation area in the country, its products lack diversification, and are mainly semi-processed products with low value addition.
A majority of the processing firms are small and their technologies are not uniformly modern, which limits the competitiveness of the industry, he said.
Climate change too has caused difficulties for the industry, he said.
"Therefore, through this conference, Binh Phuoc calls for and wants co-operation with provinces and cities and international friends."
Nguyen Anh Hoang, director of the local Department of Industry and Trade, said the province was seeking domestic and foreign partners to invest or co-operate in producing more diversified products and expanding consumption both in domestic and foreign markets.
"We are also calling for international support to help businesses in the province improve their management capacity in terms of nutrition and food safety to enable more cashew products from the province to penetrate your [foreign] markets."
Attendees said to enable sustainable development of the sector, enterprises would need to pay more attention to product quality.
Tjasse Pieter Dijksterhuis from the Netherlands's Decamerone BV said major customers in Europe and the US were increasingly demanding mandatory quality testing, and so companies must ensure specification compliance when exporting.
The US's food safety regulations are now stricter, with more inspections of suppliers' facilities, to shift the focus from responding to preventing contamination, according to delegates.
Vu Thai Son, general director of Long Son Joint Stock Company, the world's second largest cashew exporter, said a new law in the US shifted inspection of imported goods from the US to production chains in countries exporting to the US.
"US importers also require their suppliers to ensure corporate social responsibility, and so Vietnamese cashew exporters should learn more about such regulations to ensure that they meet requirements," he said.
Nguyen Duc Thanh, chairman of the Viet Nam Cashew Association, said many cashew producers and processors, acknowledging that hygiene and food safety requirements are increasing in the global market, focused on producing clean cashew nuts and ensuring consistent quality.
"Enterprises have shifted from competition in prices to competition in quality, with many firms investing in modern technologies to add value to their products."
Small and medium-sized firms could face financial difficulties in this regard and should co-operate with large firms, he said.
Nguyen Anh Hoang, director of the province Department of Industry and Trade, said: "We have made great strides in improving product quality at all stages from planting to processing based on stringent hygiene and food safety standards."
The French Government is sponsoring the province's efforts to obtain geographical indication certification for Binh Phuoc Cashew.
Hoang said this would be a good foundation for the province to promote its best cashew products around the world.
Huynh Thi Hang, deputy chairwoman of the province People's Committee and head of the conference organisation board, said the event provided an opportunity for cashew farmers, processors and traders to exchange information and explore business opportunities with local and foreign partners.
The event would also help local cashew farmers and processors and exporters to get updated on global market information and understand customers' needs, she said.
Viet Nam exported 79,000 tonnes of cashew worth $735 million in the first four months of this year, a 13.1 per cent fall in volume but an increase of 7 per cent in value year-on-year, with the US, China and the Netherlands being the largest importers.
Source:
http://english.vietnamnet.vn/fms/business/178530/region-eyes-global-cashew-co-operation.html